COVID Information
What's our plan for school during COVID?
We will do the things we did last year that were successful for us. However, this year we are starting with all scholars on campus.
This is Plan A.
The informational graphic details the next steps if we are impacted by COVID on campus.
Our last resort is virtual learning.
Help us stay on campus by doing your part to remain safe and healthy.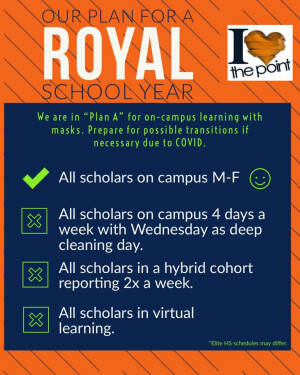 Previous Reports

Week of August 23, 2021
Week of August 30, 2021
Week of September 6, 2021
Week of September 13, 2021
Week of September 20, 2021
Week of September 27, 2021
Week of October 4, 2021
Week of October 11, 2021
Week of October 18, 2021
Week of October 25, 2021
Week of November 1, 2021
Week of November 8, 2021
Week of November 15, 2021
Week of November 29, 2021
Week of December 6, 2021
Week of December 13, 2021
Week of December 27, 2021
Week of January 3, 2022
Week of January 10, 2022
Week of January 17, 2022
Week of January 31, 2022
Week of February 7, 2022
Week of February 14, 2022
Week of February 21, 2022
Week of February 28, 2022
Week of March 7, 2022
Week of April 25, 2022
Week of May 2, 2022
Week of May 16, 2022